ransack

Pronunciation /ˈransak/
verb
[with object]
1 Go through (a place) stealing things and causing damage.
1.1 Search (a place or receptacle) thoroughly, especially in such a way as to cause harm.
Origin
Middle English from Old Norse rannsaka, from rann 'house' + a second element related to sœkja 'seek'.
==========
After
ransacking
the house, Sid ran with a sack full of loot (including a lute), jumping many a fence on the way to the fence.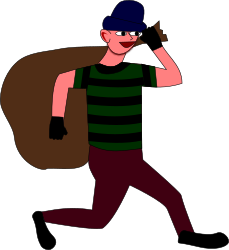 [It may be clear to many that I
ransack
my brain to reveal the reality that words overlap.]