button
Pronunciation /ˈbətn/
noun
1 A small disk or knob sewn on to a garment, either to fasten it by being pushed through a slit made for the purpose or for decoration.

1.1 A small round object resembling a button.

1.2 Fencing A knob fitted to the point of a foil to make it harmless.

2 A knob on a piece of electrical or electronic equipment that is pressed to operate it.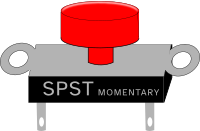 2.1 An element of a graphical user interface which a user can select to perform a particular action.

3 North American A badge bearing a design or slogan and pinned to clothing.

transitive verb
[with object]
1 Fasten (clothing) with buttons.
1.1 button someone into Fasten the buttons of a garment being worn by someone.
1.2 no object (of a garment) be fastened with buttons.
2 button it informal Stop talking.
==========
Wandering through the word lists for today, there was "cardy" short for "cardigan" which is described as a "jumper", something I'd call a "sweater" lead, eventually, me to "
button
". It's a common word, but is widely used in several areas of interest. Therefore, I won't
button
my lip. I'll attempt to
button down
some ideas and
button up
some of its applications in a package.