memorial
Pronunciation: /mɪˈmɔːrɪəl/
noun
1 A statue or structure established to remind people of a person or event: a memorial to General Robert E. Lee
1.1 [as modifier] Intended to commemorate someone or something: a memorial service in the dead man's honour
2 chiefly historical A statement of facts, especially as the basis of a petition: the Council sent a strongly worded memorial to the Chancellor of the Exchequer
2.1 A record or memoir: Mrs Carlyle's Letters and Memorials
Origin
Late Middle English: from late Latin memoriale 'record, memory, monument', from Latin memorialis 'serving as a reminder', from memoria 'memory'.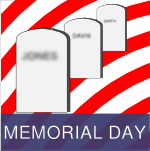 -=*=-=*=-=*=-=*=-=*=-=*=-=*=-=*=-
This post is in memory of my memory. It is late afternoon on
Memorial
Day here in the US. A
memorial
is perhaps something of a substitute for memory. We get a day to remind us to look at the
memorial
monuments marking moments not to be forgotten. The good news is that I did remember, albeit late, to mention an appropriate word for you to try to remember in the future. If you forget, this post will serve as the
memorial
, a marker you may use to remind you.