reprove
Pronunciation: /rɪˈpruːv/
verb
[with object]
Reprimand (someone): he was reproved for obscenity [with direct speech]: 'Don't be childish, Hilary,' he reproved mildly (as adjective reproving) a reproving glance
Origin
Middle English (also in the senses 'reject' and 'censure'): from Old French reprover, from late Latin reprobare 'disapprove' (see reprobate).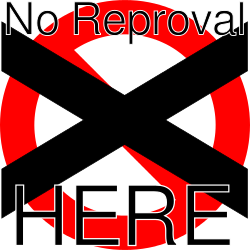 -=-=-=-=-=-=-=-=-=-=-=-=-=-=-=-=-=-=-=-=-=-=-=-=-
Remember, fans, word of the day accepts all attempts to use the day's word. We approve, never
reprove
of any sentence, story, ditty, poem or formal essay you want to offer the group.