Pronunciation: /məˈhuːsɪv /
adjective
British informal
Exceptionally big; huge: you don't need a mahoosive bag for a night out the screen is mahoosive
Origin
1990s: probably a blend of massive and a phonetic respelling of the first letters of huge.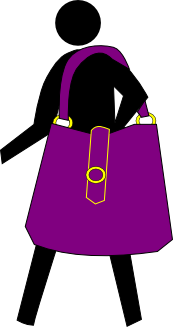 -+-+-+-+-+-+-+-+-+-+-+-+-+-+-+-+-+-+-+-+-+-+-+-+-
Carla carried a
mahoosive
purse everywhere. The significant thing was not actually its size, but the fact that she carried only a small wallet and a tube of lipstick in it.
[
My sister-in-law uses the mix of "gigantic" and "enormous" as

ginormous

all the time here in the US. says ginormous has been around since the 1940s, originating as military slang.
]