Beemer
Pronunciation: /ˈbiːmə/
(also Beamer)
noun
informal
A car or motorcycle manufactured by the company BMW.
Origin
1980s (originally US): representing a pronunciation of the first two letters of BMW (Bayerische Motoren Werke AG) + -er1.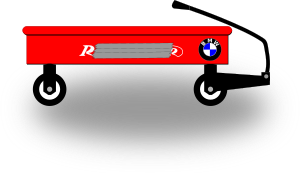 -=====-=====-=====-=====-=====-=====-=====-=====-=====-
After Bea Meyer got her
bemired Beemer
extracted from the mud, she continued the Rally with her navigator. They came in third despite of the mishap and invested a small bit of the prize money to wash and buff the car to its normal gleaming beauty. Coincidentally, Alan the Audacious of banana seat
audax
fame was not allowed to enter his Radio Flyer wagon because of the "wheels not meeting the minimum standards of Rally diameter."