Share this entry
Pronunciation: /ˈzjuːɡmə/
noun
A figure of speech in which a word applies to two others in different senses (e.g. John and his driving licence expired last week). Compare with syllepsis.
Derivatives
zeugmatic
Pronunciation: /zjuːɡˈmatɪk/
adjective
Origin
Late Middle English: via Latin from Greek, from zeugnunai 'to yoke'; related to zugon 'yoke'.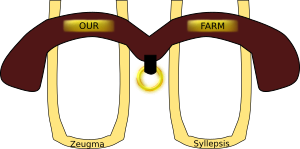 -+-+-+-+-+-+-+-+-+-+-+-+-+-+-+-+-+-+-+-+-+-+-+-+-+-
My
zeugmatic
yoke, as much as my zygomatic arch, doth hurt.
Both make temperamental and temporal pain.
They have harsh effect on the neighboring brain.
Accompanying tears take the starch out of me and my shirt.
[]