Snow
1. precipitation falling from clouds in the form of ice crystals
2. bamboozle: conceal one's true motives from especially by elaborately feigning good intentions so as to gain an end; "He bamboozled his professors into thinking that he knew the subject well"
--------------------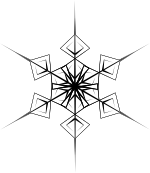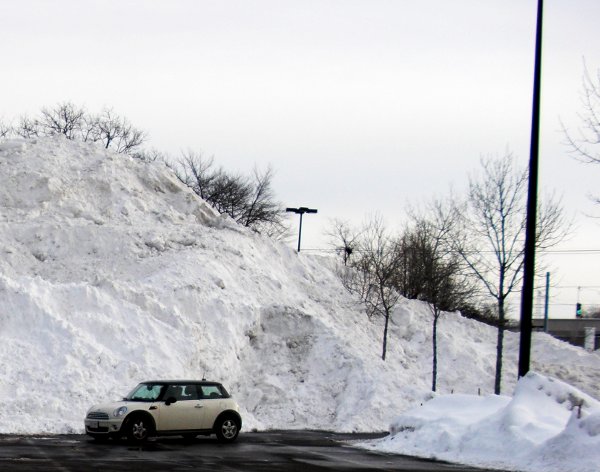 Since this photo, snow cleared from the parking lots has added to this pile, and the lamp to the rear on the right has been totally covered. The other post visible is now mostly covered, too. This annual pile melts as spring progresses, usually gone by May. I'm predicting we'll get to July before it is all gone.
In the time since the last post here on WotD, my beloved New England has been the recipient of twice weekly storms.
The storms have been variously 18 inches, 6 inches, 20 inches, 10 inches, 7 inches, etc. There have been roof collapses of businesses, garages, schools, and one major mall (not the kind in Washington, D.C. between the Capitol and the Lincoln Memorial) was closed when roof beams were seen to sag.
As a change, very pleasing for most residents, this week is predicted to have days of around 50 degrees (10 Celsius).
I have read that the native tribes of the extreme north, Inuit, Eskimo (Esquimaux), etc., have many different words for snow.
I would like to ascribe one adjective: heavy.
The individual flakes, hexagonal gems that they may be, are light. Their massive accumulation spreads white beauty on tree branches, lawns and the like. Then, as the dawn demands us to exit the dens of our modern caves, we step out to deal with the flakes by the shovelful.
In spite of the tone of this entry, I will state clearly:
I love to shovel snow
. Really! There is a great feeling in my shoulders, back and thighs while I methodically bend, extend, lift and toss the snow from my driveway and sidewalk. When I am done, I can look back and see the accomplishment.
Just for fun, if you have not seen it, you might like the story of "Snowflake" Bentley of Vermont, USA.
http://publicdomainreview.okfn.org/2011 ... f-vermont/