dissonant
Pronunciation: /ˈdisənənt /
adjective
Music
1 Lacking harmony: irregular, dissonant chords
1.1 Unsuitable or unusual in combination; clashing: Jackson employs both harmonious and dissonant color choices
Origin
late Middle English (in the sense 'clashing'): from Old French, or from Latin dissonant- 'being discordant or inharmonious', from the verb dissonare, from dis- 'apart' + sonare 'to sound'.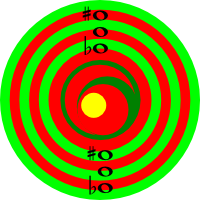 -=-=-=-=-=-=-=-=-=-=-=-=-
Dissonant
discord battered Donnie. All around him, colors and sound clashed, crashed and smashed him down. Squinting, Donnie shambled, stumbled and shoved through the crowd, seeking silent solace.